February 3, 2015
Kobelco Eco-Solutions Co., Ltd.
Kobelco Eco-Solutions to Supply Sewage Treatment plant to Binh Duong Province in Southern Vietnam
〜Contributing to Vietnam's Environmental Protection〜
Kobelco Eco-Solutions, Co., Ltd. (known as KES), a Kobe Steel Group company specializing in the environmental business, concluded a contract with Binh Duong Water Supply-Sewerage-Environment Co., Ltd. (known as BIWASE) for construction of a wastewater treatment plant.
The sewage treatment plant is part of the Southern Binh Duong Province Water Environment Improvement Project-Phase 2, which is funded by a Japanese ODA loan arranged by the Japan International Cooperation Agency (or JICA). The Project aims to increase the sewerage coverage in southern Binh Duong Province to prevent the deterioration of the water quality in the Saigon River, by expanding and constructing urban sewerage systems, thereby contributing to the improvement of living conditions and preservation of the water source in Ho Chi Minh and its surrounding areas.
KES and its 100% subsidiary, Kobelco Eco-Solutions Vietnam Co., Ltd. (known as KESV) have been actively operating in Vietnam to supply water treatment facilities, wastewater treatment facilities including comprehensive systems for industrial complexes, and operation and management services. The award of this contract was made possible by the experiences KES and KESV have accumulated in Vietnam.
The Kobelco Eco-Solutions Group is committed to expanding its water infrastructure business abroad and thereby contributing to the international community. In doing so, the competitiveness and strong local presence KESV has built up so far will play a key role. The Group will maximize synergy with KESV in developing the water supply, sewage treatment and industrial water treatment businesses in Vietnam and other Southeast Asian countries.
The Group is also keenly promoting Public-Private Partnership (PPP) projects in Vietnam. With the aim to enhance activities in this area, KES is in collaboration with various organizations and regional governments such as the city of Kobe, the birthplace of the Kobe Steel Group, with which it has maintained a Mutual Cooperation Agreement on Water Infrastructure since 2010.
【Project Outline】
○Plant :Construction of sewage treatment plant(Sequential Batch Reactor (SBR), Capacity:17,000m3/day)
○Period :26 months for construction plus 6 months for O&M services
○Site :Thuan An Town, Binh Duong Province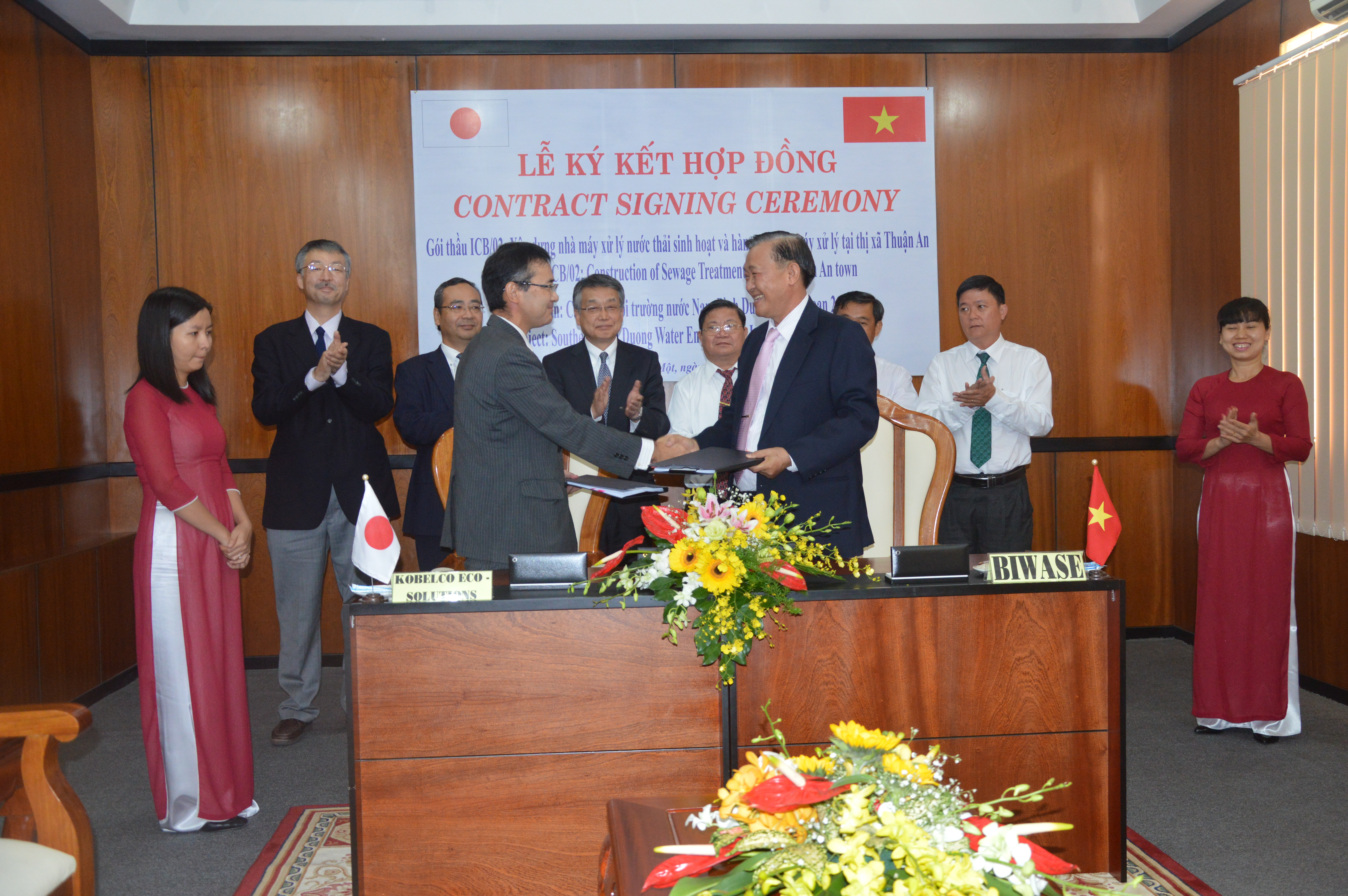 Contract signing ceremony for the wastewater treatment plant
Contact: Kobelco Eco-Solutions Co.,Ltd.