Kampot province, Cambodia - On May 10, 2022, an opening ceremony for "MLECH WATER TREATMENT PLANT" was held, where Kobelco Eco-Solutions supplied water purification facility to Phnom Penh Water Supply Authority (PPWSA). Although the water treatment plant has been in operation since 2020, the opening ceremony had been postponed due to the spread of COVID-19 infection. However, it was finally held as the infectious situations were alleviated in Cambodia. His Excellency Oum Sotha, Secretary of State, His Excellency Sim Sitha, Secretary of State of Ministry of Industry, Science, Technology & Innovation, His Excellency Long Naro, Director General of PPWSA, deputy governor of Kampot and Takeo provinces, Kampot government officials, local residents were present.Around 500 people in total attended the ceremony.
PPWSA launched water supply project in Bak Nim Village of Chres District which did not have any water treatment plant. With an aim to secure local residents' access to safe water, this project had been under consideration since 2018. This is PPWSA's first water supply project outside Phnom Penh and the water treatment plant is owned and operated by PPWSA. The tap water is supplied to households through the local water distributors. Kobelco Eco-Solutions supplied High-Speed Coagulant Sedimentation System (PS*1) and Gravity-Type Rapid Filtration System (ASF*2) for the water purification facility.
As the clean water coverage ratios in provincial cities remain low, the Cambodian government aims to attain 100% coverage in these areas by 2025. This is our nineth project of water purification plant in Cambodia. We will continue to contribute to facilitating infrastructure developments in both metropolis and regional cities of Cambodia through its water treatment technology as well as to achieving the Sustainable Development Goals (SDGs) in the region.
(*1) Pre-settler. Compact high-speed coagulant and sedimentation system that has three functions of mixing, coagulation and sedimentation in one tank.
(*2) Automatic Siphon Filter. Our unique gravity-type rapid filtration system has the function to backwash the filter by utilizing siphon effect. The system requires less number of component equipment, which can reduce the maintenance work volume as well as its electricity consumption.
【Project Overview】
Project Name: PACKAGE "E" SUPPLYING COMPACT WATER TREATMENT PLANT
Client: Phnom Penh Water Supply Authority(PPWSA)
Scope of Works: Design, procurement, fabrication and commissioning supervision for Water Purification Plant
(Flocculation and Sedimentation + Filtration)
Plant Capacity: 2,000m3/day (Water Purification Plant)
Project Site: Baknerm Village, Chress District, Kingdom of Cambodia
Coverage: Approx. 40,000 people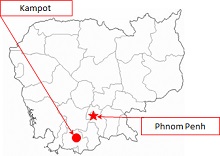 【Ribbon-cutting ceremony by His Excellency Long Naro, Director General of PPWSA】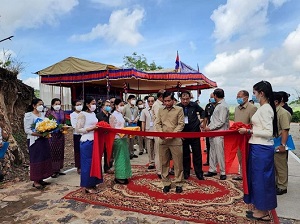 【Water purification plant】