On February 24, 2023 (Fri.), Kobelco Eco-Solutions Co., Ltd. held a seminar in Phnom Penh capital, Cambodia, to report the project results for the "Demonstration Project for Local Adaptability of Small-Scale Sewage Treatment Method Using (POD*1) Concept in Cambodia". The project was proposed by us together with the Japan Sewage Works Agency (JS), and was then adopted by the Ministry of Land, Infrastructure, Transport and Tourism as the fiscal year 2022 overseas demonstration project for sewerage technology (WOW TO JAPAN). After the seminar, the project site visit was also held. The seminar and site visit were attended by about 50 people from the Ministry of Land, Infrastructure, Transport and Tourism, the Ministry of Public Works & Transport (MPWT), and the Takeo Provincial Government.
In the Kingdom of Cambodia, the master plan for sewage and rainwater management has been revised in Phnom Penh and full-scale construction of sewage treatment facilities has begun in the city. On the other hand, in rural areas, improvement of sewerage environment is still in arrears, and water pollution in rivers and lakes due to draining household wastewater has been becoming more serious. As village communities are dispersed in these areas, centralized wastewater treatment systems are not suitable because the installation of catchment pipes is costly.
In order to solve the above issues, we adopted a compact and packaged sewage treatment system, which has been introduced in many small and medium-sized municipalities in Japan. We have been conducting demonstration tests since October 2022 with the aim of meeting Cambodia's wastewater treatment standards, which have become stricter in recent years. The Seminar covered the results of operation to date, future initiatives and standardization activities, and future sewage and sludge utilization technologies in Cambodia, such as power generation using digested sewage sludge.
We have supplied ten (10) water purification plant projects in Cambodia, so far. From now on, we intend to propose packaged solutions for both water purification and sewage treatment in combination. Our corporate mission is "to create a healthy environment and life for future generations through our innovative thinking". We will contribute to facilitating water treatment business in Cambodia and Southeast Asia by proposing solutions that meet the needs of our customers, as well as achieving the Sustainable Development Goals (SDGs) in the region.
(*1) POD: Prefabricated Oxidation Ditch
   A packaged system which components are prefabricated for small-scale facilities, with maintaining the
    excellent characteristics of the oxidation ditch method.
【Project Overview】
Demonstration Site: Around Samrong Yaong Market, Bati district, Takeo province, Kingdom of Cambodia
Facility's Capacity: 100m3/day
Scope of Work: Design, procurement, fabrication and commissioning for sewage treatment facilities
(POD concept)
Demonstration Period: October 2022 〜 March 2023
(Our own demonstration project from April)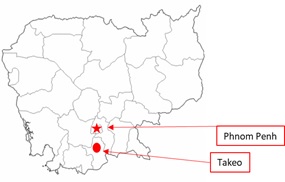 【Seminar】                  【Site visit】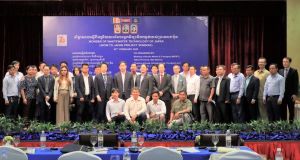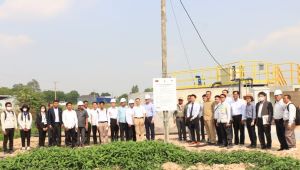 【Speech by the Director GeneralGeneral,         【Comparison of influent raw water
Directorate of Sewerage and Wastewater Management,     and treated water】
Ministry of Public Works & Transport (MPWT)】