The methane fermentation System helps forming a recycling orientated society.
- Methane fermentation is a system to extract biological gas (about 60% of methane and 40% of carbon dioxide) from organic waste by the action of methane bacterium.
- This contributes to global warming prevention with environment-friendly technology to treat wastes through non-incineration process.
- Biological gas may be used as energy for power generator and automobile fuel.
Fermentation residue may be used as compost, helping forming a recycling orientated society.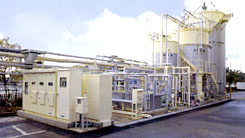 Co-op Kobe Methane fermentation facilities (Treatment capacity: 5t/day)
Features
- The raw material acceptance process is applicable to various organic waste raw materials.
Even packed raw materials may be accepted through pack breaking process and foreign materials may be separated and eliminated by crusher/separator.
- In the methane fermentation process, biological gas is generated and collected effectively thanks to fermentation temperature, number of fermentation days and mixing system optimal for aspects of raw materials.
- Collected biological gas may be used as fuel for boilers and gas engines.
- Electricity generated by a gas engine and waste heat may be used as internal power and internal heat source, respectively.
In addition, biological gas may be purified to be used as natural gas automobile fuel.
- Digestive fluid after the methane fermentation is purified by the wastewater treatment facilities and then discharged.
With our S-TE process, the amount of sludge generated in the wastewater treatment facilities may be substantially reduced.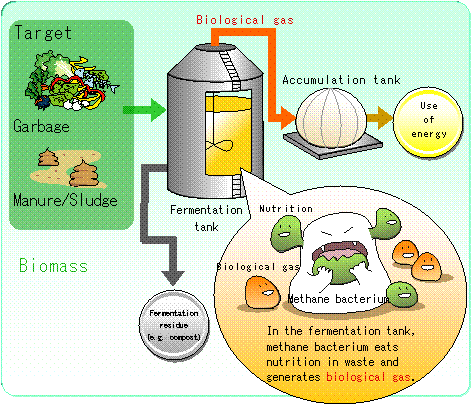 Record of methane fermentation facility delivery
No.
Delivery destination (completion year)
Treatment capacity
Treatment object
Fermentation system
Equipment
1
Hita City (March 2006)
80t/day
Food waste Pig manure Rural community sludge
Wet medium temperature fermentation
Details
2
Co-op Kobe (December, 2003)
5t/day
Waste food
Wet high temperature fermentation
Details
3
Tottori Economic Foundation (1985)
20 m3/day
Pig manure
Wet medium temperature fermentation
-
4 other demonstration plants