May 27, 2021
Kobelco Eco-Solutions Co., Ltd.
Kobelco Eco-Solutions awarded contract for
one of the largest water purification plants in Hanoi, Vietnam
KOBELCO ECO-SOLUTIONS CO., LTD. ("KES", head office: Chuo-ku, Kobe, President: Takao Ohama) and KOBELCO ECO-SOLUTIONS VIETNAM CO., LTD. (※1"KESV", head office: Ho Chi Min City, Vietnam, President: Nobuyuki Tateko) have jointly secured a contract from Hong River Surface Water Joint Stock Company (HRSW)※2 for the construction of a water purification plant in Hanoi, Vietnam.
Demand for the safe supply of water is rapidly expanding in Vietnam due to high economic growth, and the country has seen a surge in the development of water purification plants funded primarily by the private water businesses. The plant to be constructed will incorporate its proprietary Open Siphon Filter (OSF) ※3 with treatment capacity of 300,000m3/day, making it one of the largest in Hanoi.
KES group has over 60 track records for providing facilities and O&M services in Vietnam. Such performance history and our reliability are highly valued and have led to the contract for one of the largest water purification plant in the capital, Hanoi.
KES Group mission being "To create a healthy environment and life for future generations through our innovative thinking", the Group is committed to expand water infrastructure projects in Vietnam and Southeast Asia, utilizing the expertise and experience accumulated in Japan and overseas. The Group will continue to contribute for the stable and quality water supply and for the achievement of the "Sustainable Development Goals (SDGs)".
【Project Outline】
(1) Project Name: Hong River Surface Water Treatment Plant Project
(2) Construction Site: Hanoi City
(3) Project Scope: Construction of Water purification plant 300,000m3/day which includes all equipment, electrical and instrument.
(4) Project Duration: 19 months (scheduled)
※1. KESV: KES's 100% subsidiary in Vietnam
※2. HRSW: A Specific Purpose Company (SPC) invested by Thanh Long Group and Hanoi Water Company
(HAWACO), engages in water supply projects.
※3. Open Siphon Filter (OSF):Gravity-type open filtration equipment using the siphon mechanism.
Equipped with the original backwash storage tank and using siphon tubes, it facilitates switch processes
between filtration and backwash. It also simplifies the control and enables to reduce the cost on operation maintenance.
○More about OSFhttps://www.kobelco-eco.co.jp/english/product/pdf/water_treatment_process/osf.pdf


【Signing Ceremony】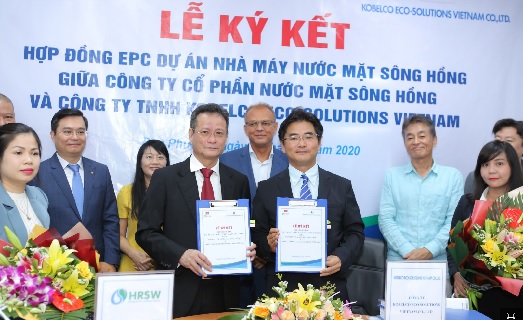 Contact: Kobelco Eco-Solutions Co.,Ltd.