Kobelco Eco-Solutions completed water purification plant for expansion in Takeo Province, Cambodia
〜Responds to growing water demand with our compact system〜
Takeo Province, Cambodia - On 10th April 2022, a completion ceremony for water purification plant was held, where Kobelco Eco-Solutions supplied water purification system for expansion for SOMA (*1), a local company. Mr. Lim Bunhok, CEO of KRANGTHNONG TEUKSAAT (*2) and other concerned parties attended the ceremony.
SOMA Group has been purifying raw water from a lake to supply tap water to its service areas around Bati Lake in the north of Takeo Province since 2014 with an exclusive license for the water supply business. Since water demand has grown steadily around original service areas as well as a residential area newly developed, SOMA decided to expand its capacity by adding 1,500m3/day this time.
The 1st water purification plant using our ASF (*3) system is running well and is being fully operated so that the same system was adopted for this expansion project. Our compact system (*4) enabled us to realize shorter delivery period, which was just 5 months from project commencement in October 2021 to completion of commissioning in March 2022.
This is our nineth project of water purification plant in Cambodia. In Siem Reap City as well, where Angkor Wat, the World Heritage Site is located, water purification plant with 60,000 m3/day is under construction under the auspices of JICA's Official Development Assistance (ODA). With our corporate mission to "create a healthy environment and life for future generations through our innovative thinking", we will continue to meet the needs of our customers, through construction and expansion for various capacities of water purification plants. In addition, we will contribute to facilitating water treatment business in Cambodia and Southeast Asia, as well as achieving the Sustainable Development Goals (SDGs) in the region.
(*1) SOMA Group…A Cambodian conglomerate engaged in agriculture, trading, construction, and other businesses. SOMA Group also established the joint venture company with us in 2018. The JV company implements water supply business in the suburb of Phnom Penh
(https://www.kobelco-eco.co.jp/english/news/2019/20200130-1.html)
(*2) A water business unit under SOMA Group
(*3) ASF…Automatic Siphon Filter. Our unique gravity-type rapid filtration system has the function to backwash the filter by utilizing siphon effect. Thus, the system requires less number of component equipment, which can reduce the maintenance work volume as well as its electricity consumption.
(*4) It can realize shorter delivery period by implementing installation after fabrication.
【Project Overview】
Owner: KRANGTHNONG TEUKSAAT
Project Site: Takeo Province, Cambodia
Plant Capacity: Total treatment capacity: 2,580 m3/day (1,500 m3/day for this expansion)
Scope of Work: Water Purification Plant (Flocculation and Sedimentation + Filtration)
*Design, procurement, fabrication, and commissioning supervision
Contract Period: From October 2021 to March 2022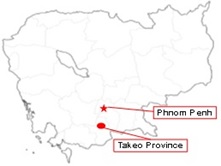 【Completion ceremony】             【Water purification plant】