Development policy and introduction to our technology
Environment Recovery
As for POPs (Persistent Organic Pollutants), such as PCB, Dioxin and pesticides, appropriate and early treatment is hoped due to their hazardous and toxic property.
Efforts to regulate POPs in global framework is already in progress. Stockholm treaty(POPs treaty) is already effective and Japan has ratified this treaty. In Japan, it is obliged to dispose PCB waste by 2016 by PCB special measures law.
Kobelco Eco-Solutions has developed a safe and secure treatment technologies for handling of POPs.
PCB/Dioxin Contamination Soil Treatment System (RH-SP Process)
Soil, dredged sludge from rivers and incinerator dismantling waste, which are contaminated with POPs and various pollutant, are indirectly heated under low oxygen atmosphere.
The pollutants are desorbed from the soil, sludge and waste, and decomposed.
The desorbed pollutants are captured in exhaust gas treatment equipment, then securely detoxified using the metal sodium dispersion element method(SP mothod).
The SP method is a technology that its effectiveness is authorized as a PCB and dioxin treatment technology of Ministry of the Environment.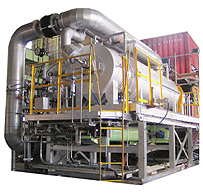 RH-SP process demonstration equipment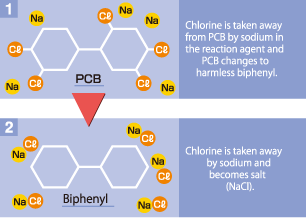 Rationale of SP method (detoxification by the dechlorination)
Integrated PCB treatment system
We accomplished a integrated PCB treatment system for transformers and capacitors by combining SP process and SED process(Solvent Extraction Decomposition system).
Demonstration apparatus is installed in our Technical Research Center for various demonstration tests using actual contaminated materials.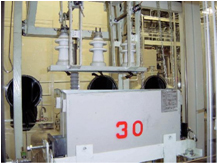 The "decomposition station" which extracts PCB from a contaminated equipment,
and dismantles it in a shape suitable for cleaning.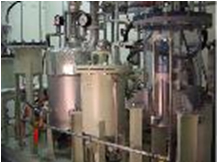 The "oil treatment station"
to detoxify PCB.
Plasma Melting System
Our plasma melting system decomposes toxic PCB and dioxin with electric plasma and melts ash to be harmless slag.
We have developed treatment technology to deal with PCB contaminated wastes by using plasma melting furnaces, and confirmed that the system detoxifies PCB appropriately.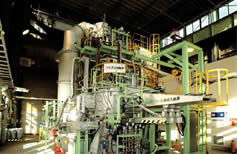 Plasma melting facility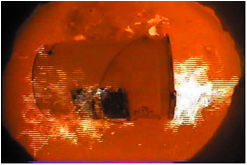 A pail can containing PCB contaminated matters
being melted with plasma