PCB /Dioxin treatment (detoxification)
Liquid PCB decomposition technology (SP process)

SP process is a treatment technology developed by Powertech in Canada and achieving abundant performance records worldwide. This process uses sodium dispersion(SD) as the active ingredient for PCB disposal. The sodium react with the chlorine atoms in the PCB to form salt and biphenyl.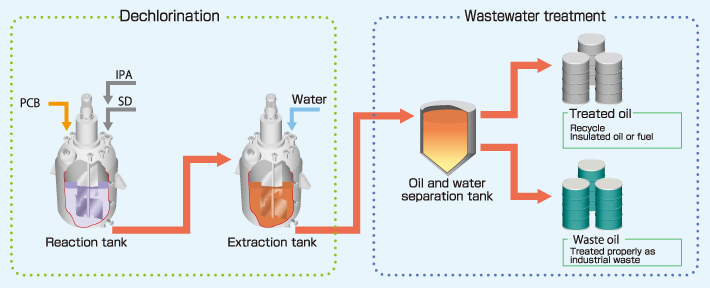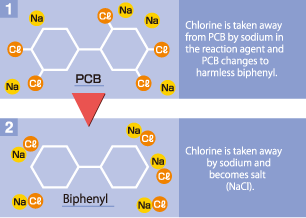 Features of the process
Excellent safety
This is a highly-safe technology that has treated PCB contamination oil of about 15,300m3 since 1987 in public electric facilities in British Columbia, Canada without any accidents (to Powertech Website).
Low treatment temperature
Due to mild reaction conditions (low temperature (90°C to 120°C) and ordinary pressure), unnecessary transpiration of PCB does not occur during treatment.
Abundant record of adoption
This technology is adopted in wide-area treatment facilities driven by the government as well as private in-house treatment facilities.